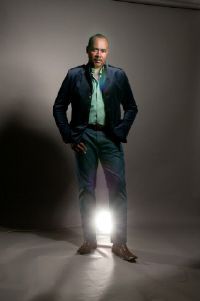 Ambassador Anthony O. Vann

Dr. Anthony O. Vann is the President & Co-Founder of Noire Productions, Inc., started Noire Productions in 1997. His mission for the company was to bring "Quality Entertainment to the African-American Community." Since the companies humble beginning we have done over 20 theatrical productions, all written and directed by Vann. In most of the dramas Vann also writes the music as well. In 2000 Vann's literary works were published in "Divining Beauty" a publication of Watermark Press. In 2003 Noire Productions received the coveted Cathy B. Hughes Business Award. Vann was also featured in an article on Spiritual healing through gospel dramas, in the Medical Herald Magazine of New York. Vann is also a certified judge for the the Miss America organization, as well as Internationally certified as a Director and Judge through EPIC International Pageant system. Vann was one of the producers for the Miss Black USA Pageant 2007 in Gambia, Africa. Vann has worked as a Field Director for the Miss North Carolina Pageant system. He currently serves as Director of Development for State Directors for the National Miss Black USA Organization.
In February 2008, Vann was appointed as an Ambassador for Gambia, Africa by the Honorable President Dr. Yahya J.J. Jammeh. Vann is excited about the responsibility and is excited to represent such a great group of people.
As a writer Vann's mission is to make sure that my work has substance. "I write about situations facing our African-American communities today, and offer positive messages for solutions to problems faced in the drama."
As an overall person Vann's mission is be the best friend, brother, son, uncle, confident, etc., that he can be. "I want God's light to shine through me, so that others may see the way. I want to make a difference in the lives of others, and doing this I am sure a difference will be made in my own life. I just want to know that God is smiling."
Email: Avann15434@aol.com
****************************************************************************
Co-Founder/ Vice-President
Kimberly Vann-Hunt is the Co-Founder and Vice-President of Noire Productions, Inc.
Vann-Hunt also serves as National Director for the Jr. Miss/ Miss Teen Essence USA Scholarship Pageant. This program works with African-American teens 10 to 18 years old. The participants are groomed to become outstanding leaders in our society through our development program. She also serves as State Director for the Miss Black NC USA competition.
Kimberly currently resides in Knightdale, NC. She received her Bachelor's degree from the University of North Carolina at Greensboro in Speech Language Pathology, and her Master's degree from North Carolina Central University in Speech Language Pathology.
She is the wife of Officer Jonathon Hunt and the mother of two children. Kim owns and operates Vann-Hunt & Associates Inc., a private practice speech company in Raleigh, NC.
Kimberly enjoys reaching out into the community and giving back to others….Vann says "One day someone reached out and touched my life, so I feel compelled to do the same. To whom much is given, much is required. If I can change one life, then it is all worth it."
Kimberly is a proud member of Alpha Kappa Alpha Sorority, Inc. Vann-Hunt was the winner of the Sigma Tau Omega "2006 Community Service Award".
Email: Vannhunt@bellsouth.net


****************************************************************************
Mr./Ms./Mrs. State Director

Bernard Leak is a native of Greensboro, NC. He received his Bachelor of Arts from UNC Greensboro in Media Studies with a Concentration in News & Documentary. He is currently working on his Masters of Science in Marriage and Family Counseling. Bernard is a Spring 2008 initiate into the Iota Epsilon chapter of Phi Mu Alpha Fraternity, Inc. Mr. Leak serves as the Mentor Coordinator for Wise Guys, an entity of Children's Home Society. He is an active volunteer in his community, lending his time to mentoring youth, the Lupus foundation of America, and an active member of New Jerusalem Cathedral. Bernard is currently working on his professional singing career. He is a solo R&B/Soul singer-songwriter and performs under the stage name: B. Parker.
Bernard is a former Mr. Black North Carolina USA 2009. Currently he serves as the choreographer for the Miss Black USA National Talented Teen Pageant, Miss Black North Carolina/Talented Teen USA, Mr./Ms./Mrs. Black NC USA, and North Carolina International Pageant systems. Mr. Leak also works with Mr. and Miss North Carolina A&T each year as he helps prepare each of them for their respective competitions: Miss Black Hall of Fame and the Mr. HBCU pageant. Mr. Leak is the official statistician for the Mr. and Miss Dudley High School pageant each year.
Email: Bernardleak@gmail.com

****************************************************************************
Youth Advisory Board Member
Taylor Nicole Hunt

Taylor Nicole Hunt serves as the Youth Advisor Board Member for Noire Productions, Inc. She assists the organization by providing counsel and support, helping the organization form a stronger connection with youth in our community. Her new and exciting ideas have aided the organization in its effort to move to the next level of meeting the needs of our youth. Taylor is an informed advocate for our organization thus helping indirectly and directly to support the cultural shift from current paradigms to ones that are empowering and relevant to today's youth.
Taylor's diverse background in the Arts combined with her scholastic achievements makes her a perfect fit for our organization. She is a Senior in the Honors program at East Wake Academy and represented her school as the 1st Governor's School recipient. Taylor is a pre-professional dancer and trains at CC & Co Dance Complex and Infinity Ballet. Her commitment to improving her community by using her voice for those who may not have a voice, is parallel to none.